What is VoIP?
Simply put, VoIP telephony is phone service over your internet connection. This has multiple benefits including reduced costs and higher call quality. Your business costs are lower as you won't be paying for a separate service from a local telephony company and as the service is transmitted over high-speed internet, calls with VoIP telephony will be clearer with far less audio loss.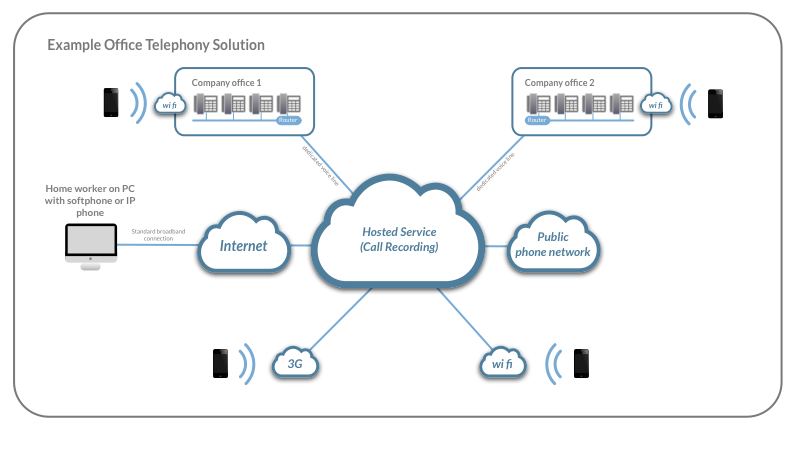 What are the benefits of using VoIP Telephony?
• Save money• Easy to set up

• More than just voice

• Conference calls

• Multiple features• No geographical boundary

• Increased productivity

• Low-cost hardware and software
There are multiple benefits to using VoIP telephony within your business. The first and often the main reason for switching to VoIP is for the money saving benefits, unlike Public Switched Telephone Networks (PSTN), long distance calls become far more inexpensive on a VoIP line as the call is transferred over the internet and not through traditional phone lines. VoIP telephony also has feature-based benefits like conference calling within your business and the ability to make video calls and transfer files and images while on calls.
VoIP is also simple to set up and therefore makes upgrading a fast and efficient process, it can even be integrated with an existing phone connection. All of these benefits of using hosted voice add up to make your business a more productive and successful place.
Why get your business's VoIP telephony service with us?
Our Hosted Voice over IP service is a state-of-the-art, flexible and user-friendly business telephony solution. Built to benefit your business with a complete VoIP service, from standard to advanced hosted VoIP telephony systems that feature a true IP communication solution with a lower cost of ownership, through centralised web management with available options such as true mobility and computer integration.
Genesis's Hosted Telephony features are extensive, affordable and reliable.
We work hard to provide multiple VoIP services including; Call Logging, Call Recording, True Multi-site support and making sure the setup of your VoIP service is simple
For more information or advice on our hosted telephony options please contact us.
Feature Highlights
Enterprise Voice
Business class hosted telephony functionality at the touch of a button
Mobile Office
Take & make calls on your smart-phone, windows or Mac
Call Director
Gives you the ability to move a call from your desk phone to your mobile seamlessly, and then back again!
Call Logging
Company-wide call records, comparison and analytical tools for tracking and improving the efficiency of your business
Call Recording (FSA/PCI Compliant)
Benefit from secure cloud based call recording, intelligent statistics and real-time monitoring, only possible with hosted voice
Click to Dial Toolbar
Integrates with MS Outlook enabling click to dial of contacts and caller notification
Call Centre (with wall-board)
Allows full call centre functionality with a wall-board all web-based so is accessible anywhere, another benefit of hosted VoIP telephony
CRM Integration
Supports all the major CRM packages enabling screen pop-up and call logging
Disaster Recovery Options
Pre-configure options in advance to help your business continuity plans, hosted telephony keeps your business going when disaster strikes
Reception Console
This is an attendant console application for telephone attendants and receptionists who screen and manage incoming calls
True Multi-site support
Extension dialling regardless of location and centralised management allows you to not only deploy and manage your telephony solution easily but at low cost too
Number Portability
You can move your existing numbers that are currently on traditional lines onto the VoIP exchange
What do our customer's think?
"We had to relocate our office due to redevelopment and the most important thing to our company was keeping the phone numbers we had used for the last 15 years intact, ensuring we never missed a client.
Thanks to Genesis we have now upgraded our telephone system, provided each employee with a tailored experience and call handling package, and saved on average about 25% off our monthly bills." – Alufix (UK) Limited.
Genesis will work with you through every step of the installation process, from providing network, telephony and VoIP assessments and full site qualifications and deployment.
We are a reliable and capable Hosted Telephony provider based in the UK, if you need any more information or advice on how to choose the right VoIP service for your business, please call us on 0843 504 4180 and one of our friendly team member can answer any questions you have on hosted voice services.